Dani Colorado
Executive Assistant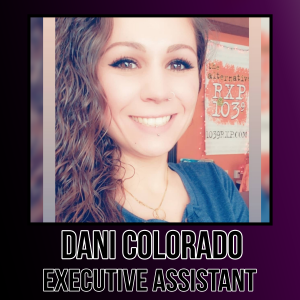 Born and raised in the 719, Dani has always had a passion for mountains and music.
After starting a family, Dani decided to go back to school in 2015, where she began taking classes for Broadcasting & Production.
Dani was hired as a DJ for 94.3 KILO in October of 2018; before she even graduated from the radio program. After a little over a year of employment, she moved up as Executive Administrative Assistant for KILO and RXP, where she greets clients, listeners, and guests. She is the point of contact for vendors and prize winners and fills in for Marketing Consultants and Management while they are on vacation.
In her free time, Dani enjoys walks on the beach and sipping wine as the sun sets.