Pikes Peak Restaurant Week
From April 9 - April 18, 2021, restaurants around the Pikes Peak region will be offering a fixed-price discounted menu.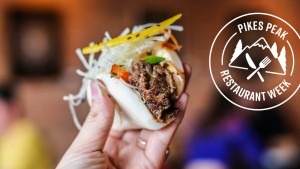 Now, more than ever, the restaurant industry needs our support and we're ready to kick things off with the biggest and best Pikes Peak Restaurant Week yet. Grab your stretchy pants, your close-knit crew and get ready for a week packed with flavor from April 9-18, 2021.
Hosted by CRA and VCOS, Pikes Peak Restaurant Week's mission is to bring awareness to our amazing local restaurant scene and to bring the community together. Restaurants around the Pikes Peak region will be offering a discounted multi-course meal for one of three pricing tiers: $15, $25 or $35 per person.
"Check In" your Restaurant Week meals and enter to win a Downtown COS gift card of $250, redeemable at numerous restaurants and shops. There are 4 winners, which means a better chance of winning!